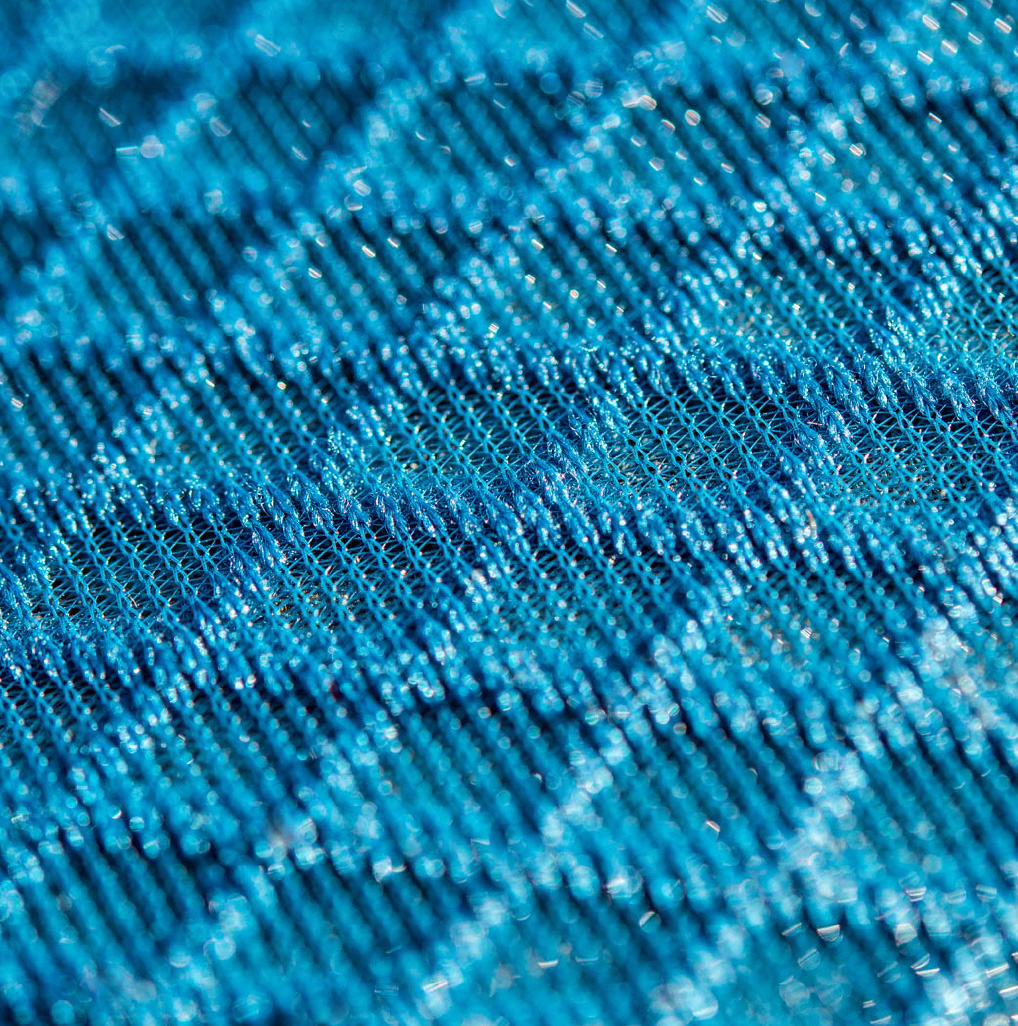 This range of technical fabrics is the foundation of our performance apparel. Functional fibre structures ensure these advanced fabrics perform both on and off the field. Reach out to discuss the right fabric for your teamwear or apparel.

300D OXFORD
Lightweight and quick drying, this superior-strength polyester twill fabric is designed to withstand the rigors of contact sport.

CENTURY CRICKET
Developed to combat cricket's hot summer playing conditions, Century is a lightweight shirt fabric finished with a premium hand-feel that's as advanced as its breathability.

COOLMESH
High-filament yarn meets permanent moisture management properties in this elite lightweight fabric. Created for player comfort and focus, Coolmesh keeps the wearer cool, dry and in control.

FLEXSHELL
We challenged ourselves to create an ultra-lightweight version of our Softshell, and Flexshell surpassed all expectations with its compact composition and water-resistant properties for repelling light rain showers.

DINTEX
This advanced fabric features a DuPont Teflon-treated microfibre surface combined with a film membrane inner-layer. The membrane's intelligent micro-pores repel water without compromising breathability. Waterproof and windproof, Dintex is the ultimate all-rounder for all-weather jackets and coats.

HYTECH SILVER
Best in class for polos, Hytech Silver is breathable and won't lose its shape. Nano-silver particles offer superior anti-microbial management combined with high-filament for maximum moisture management.

LEGACY CRICKET
Developed for pants, vests and jumpers, this durable mid-weight fabric is designed to withstand long summers of cricket. Legacy Cricket offers unparalleled comfort – but you'd never know it from the premium hand-feel and finish that gives players a polished look.

NYLON
A lightweight woven fabric that is durable and helps keep you dry in light rain. Typically accompanied by a mesh lining and vent on the back for added airflow and breathability.

ULTRADRY
Stay dry and comfortable during gameplay. With permanent moisture management properties, Ultradry is remarkably lightweight with a super-smooth hand-feel and flat finish.

SOFTSHELL
This technical outerwear fabric keeps wearers warm, dry and supremely comfortable in every condition. A Dintex mid-layer is integrated into the composition for full wind and water protection while maintaining breathability and movement. This complex structure is engineered to adapt to all jackets – from lightweight through to fully lined snow constructions.

MICROFIBRE
An innovative polyester fabric designed to help keep you dry so you can more comfortably work harder for longer. Our unique high-performance microfibre construction supports the body's natural cooling system by wicking away sweat and dispersing it evenly throughout the surface of the garment so it evaporates quickly.

STRETCH MICROFIBRE
Move like never before with this advanced soft fabric designed to stretch for maximum comfort and movement. Strech Microfibre features a DuPont Teflon-treated microfibre surface that resists both water and stains, and it's also breathable, durable and anti-static. For shorts, we have also developed a non-DuPont option.

STRETCH COOLKNIT
Keep a cool head during gameplay in Stretch Coolknit, with its permanent moisture-wicking technology to draw heat and moisture away from the wearer. This mid-weight fabric features optimal stretch and a tailored fit designed for the modern game. With unsurpassed durability, Stretch Coolknit excels in contact sports.

X-CARBON
This high-performance fabric takes the moisture and odour management capabilities of lightweight fabric into a new realm. X-Carbon is constructed with nano-carbon technology, visible bamboo charcoal particles and permanent moisture-wicking yarn for comfort and performance.

YARN-DYED RUGBY KNIT POLYCOTTON | 315GSM
A classic, for a reason. Used in rugby jumpers, this soft yet durable polycotton can be custom-knit to your design.

POLYCOTTON | 320 GSM
A soft and absorbent fabric that is made from polyester and cotton that combines the best of both worlds. Our polycotton features just the right mix for lightweight, breathable and durable applications.

FLEXKNIT FLEECE
The superior warmth and breathability of Flexknit Fleece is in a class of its own for a comfortable lightweight fabric. A smooth jersey finish inside and out creates a modern and clean aesthetic for hoodies, sweatshirts and sweat pants.

POLAR FLEECE | 325 GSM
This ultra-warm fleece weighs a fraction of the lightest comparable woollens and is fast drying thanks to its hydrophobic properties. Polar Fleece is the ultimate choice for jackets, vests, fleece tops and quarter zips that are lightweight and silky soft.

SUPERSOFT FLEECE
Heavyweight yet ultra soft, this fleece outperforms all others. Supersoft Fleece offers the highest grade of warmth and comfort for hoodies and sweatshirts.

COTTON FLANNEL
A soft and comfortable jacket lining that provides mid-level warmth with the breathability of cotton.

FLEECE LINING | 190 GSM
This thick Polar Fleece jacket construction is warm yet ultra lightweight for optimal range of movement.

MESH LINING
A modern lining for lightweight and wet-weather jackets. The light and unstructured construction looks impressive when worn over a polo.